In December 2019, the KCST team traveled to India to see all the wonderful work on how your donations have helped. Below is an account from one of its members.
---
Cloistered Carmelite Nuns Visit
The Cloistered Carmelite Nuns live within the four walls of their convent and rely full on generous hearts and spend their full time in prayer and comtemplation.
KCST team learned that the convent was established in 1974 by the foundress that arrived from Bangalore to just two small buildings. Their currently facility consists of seven acres of land that is used to raise mostly vegetables and fruit. A common issue is raids by monkeys that take from the fields. Funds only exist to provide for basic needs like food and utilities for the Sisters, so KCST's mission supplements their needs with needed funds to maintain the facilities and other essentials.
The Sisters' life is very simple in educating novices in the order and supporting the Diocese. Because the order is cloistered, only one sister is available to interact with visitors or the public.
Our visit demonstrated a beautiful philosophy of their life. For example, when asked how bad the problem was with the monkeys raiding the crops, the answer was "they leave us what we need."
They also explained that their prayer consists of speaking to God from the depth of their hearts, telling him everything so there is a relationship. God is always there in this relationship and that he does not take offense for things they may do or not do. God is always there for them.
Their vocation is dedicated to praying, not for their benefit, but for our benefit and for the Kurnool Diocese.
A typical day consists of:
Awaken at 4:30 am
Pray for an hour
Sing Breviary for an hour. The Breviary consists of psalms, scripture lessons, as well as hymns and prayers.
Perform work and chores as a community or family that includes preparing food, cleaning, laundry, etc. and making communion hosts for the Diocese.
Pray the rosary
Spiritual reading and vespers (evening prayer)
---
Bridgittine Nuns Visit
The Bridgittine Nuns live semi-cloistered by spending most of their time in adoration and rely mostly on generous support.
Our visit to the Sisters of Saint Bridget touched our hearts. We were informed that their facilities were in so much disrepair that until the Parish of St. Catherine of Sienna in Austin, Texas and KCST provided financial assistance they had not had visitors for 25 years. The sleeping quarters, roof and restroom facilities were in very poor condition.
The Diocese of Kurnool has benefitted from the Bridgettine Sisters selfless charitable works and they provide many services to the marginalized, unwanted and uncared.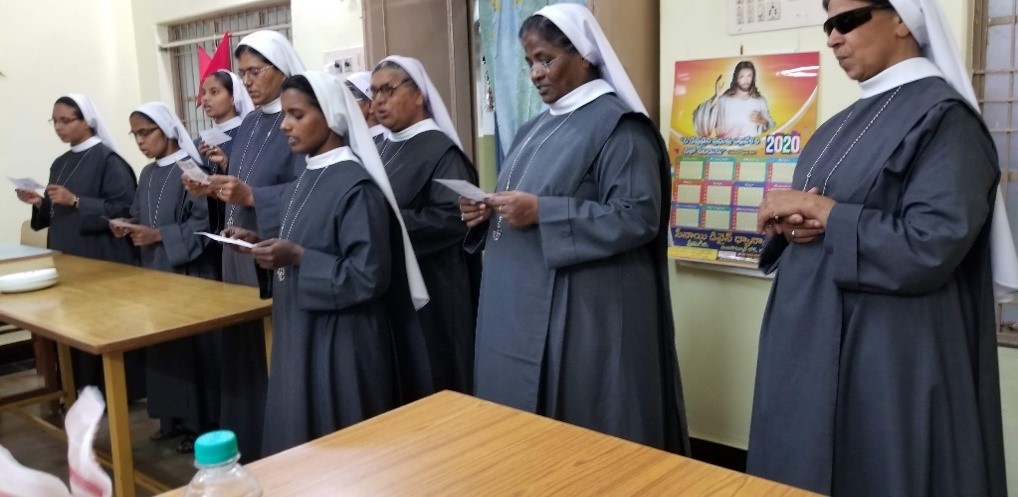 ---
Congregation of Teresian Carmelite Nuns Visit
The Congregation of Teresian Carmelite (CTC) was established in 1866 in Kerala, India. While there we were able to visit their convent and to learn about their history and mission to further educate their candidates and support their many sisters. We learned that the support they receive all goes to sustenance, utilities and daily life. They do not receive support for the maintenance of facilities. The KCST mission is to assist the Sisters in providing support for maintenance on their facilities.